ALPHA 250kA log Push Pull potentiometri kytkimellä ALPP250-A50/log
Main Page > Parts for musical instruments > Machineheads and other parts Boston / SPG > Potentiometers for guitars > ALPHA pots for guitars
Tuote 109737. ALPHA Push Pull audio potentiometri kytkimellä ALPP250-A50/log. Laadukas ALPHA Push Pull kytkin, ensiasennuspotikka monilla kitaramerkeillä. Tuumajako akselin hammastuksessa, "push to fit" nuppejamme joutuu "modaamaan" asennusvaiheessa eri hammastusjaon vuoksi. Kaikki ruuvikiinnitteiset nuppimme sopivat. Varastoimme myös joitakin menevimpiä malleja tuumajakoisia nuppeja.
CTS is (and has been since the 50's) a factory standard for most USA brands like Fender and Gibson. Alpha is a good alternative, nowadays used as a factory standard by Ibanez, Epiphone and Squier.
Push-pull 250K audio potentiometer, standard length bushing .375", 3/8" diameter, made in Taiwan.
See also
Tuote 103053. Kaulan kiinnityslevy kaulalevy KAULE1CR, kromi. Neck joint plates. Laadukas, hyväpinnoitteinen ja tukeva Boston Musical Products. Kaulalevy. Screw holes...
Tuote 108784. Asennusjohto monisäikeinen musta 0.5 mm².
Tuote 101850. Potentiometrin nuppi. ST -tyylinen volumenuppi black STNUPVB. Korkeus n. 13 mm , leveys n. 17/25 mm. Boston Musical Products tai Korea, riippuen varastotilanteesta.
Tuote 108254. Autoradioantennin johdon urosliitin. Autoantenni uros liitin DIN.
Tuote 108333. Koriste "reuna" nauha, binding material, ABS. Pearl pattern. Koko n. 1.5 x 8 x 1350 mm.
Tuote 105612. Jakkikuppi TC -tyylinen tuumakierre kromi. Tämä on se "oikea" jakkikuppi. TE-model input cup, with angled screwholes, 3/8" 32 thread, chrome.
Näihin...
Tuote 114641. Rullatalla sähkökitara Schaller 12080200 STM Kromi. Mittakuva High-quality bridge for all Les Paul™* type guitars. Compatible with post spacings from...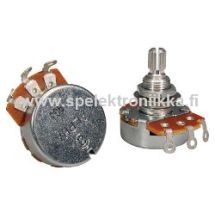 Tuote 114174. ALPHA 24mm kitarapotentiometri bushing 8mm ALP250kB42/lin millikoko. HUOM !!! Mukana 2 mutteria + prikka helpottamaan pleksiin asennusta. Merkintä B...