CTS 24mm short bushing pleksiin 250k log uritettu akselin pää näkyvillä syvennys
Main Page > Parts for musical instruments > Machineheads and other parts Boston / SPG > Potentiometers for guitars > CTS pots for guitars
Tuote 115197. CTS USA 24mm potikka short bushing uritettu ja halkaistu akseli lyhyt kierre pleksiin 250k log akseli läpi kuoren takaosan tuo vintage ulkonäköä, eli näissä varsi on tuotu potikan takakuoren läpi ja on syvennyksessä kuten vintage potikoissa ennenwanhaan. Aidot CTS -potikat, uritetulla metallivarrella kitarakäyttöön. Tuumajako akselin hammastuksessa, "push to fit" nuppejamme joutuu "modaamaan" asennusvaiheessa eri hammastusjaon vuoksi. Kaikki ruuvikiinnitteiset nuppimme sopivat. Varastoimme myös joitakin menevimpiä malleja tuumajakoisia nuppeja.
Genuine CTS pots, with split metal shaft for guitars. Short bushing .250", 3/8" diam. USA style dished back, pickguard mount.
See also
Tuote 104530. Otelautamerkki, simpukka aito MOP 6mm OTEMOP6. Valkeasta "helmiäisestä", simpukasta (MOP) valmistetut pyöreät otelautamerkit. Genuine White Mother of...
Tuote SPT21285. Knob for 6mm potentiometer 17 x 30 mm aluminium surface GOLD "push to fit".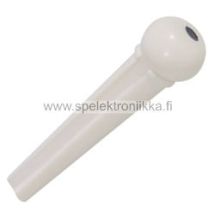 Tuote 109478. Akustisen kitaran tallapinni muovia Valkoinen musta piste TPWHDABS. Bridge pin white, black dot, plastic. Tallanasta.
Tuote 102570. P90BLK, soapbar tyylinen P90 kuori pitch 50 mm musta. P90 -style plastic pickup covers. Polepiece spacing 50 mm. Korkeus / height: 16.4 mm (0.65"). Muovia.
Tuote 115366. Peitelevysetti potikoille ja kytkimelle LP pearl 4PLY Pearl/White/Black/White. Setissä potikoiden ja kytkimen peitelevyt.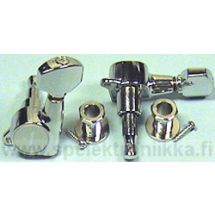 Tuote 105568. SG381-07 (07222GS) 3L/3R Gotoh® virityskoneisto kulta, kuusikieliselle sähkökitaralle 3L/3R. Välitys 16:1. Machinehead set, Gotoh®, type SG381-07CS (07222). Gear...
Tuote 109479. Akustisen kitaran tallapinni muovia Musta valkoinen piste TPBKDABS. Bridge pin black, white dot, plastic. Tallanasta.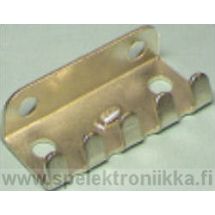 Tuote 102343. Tremolojousten (vibran) jousten pidike TRJK19. Tremolo spring holder. Tukeva paksua metallia oleva pidin, ei mikään ohut peltilätyskä. Kiinnitysreiät kummallakin...
Tuote 102410. Tremolojousten peitekansi ST -tyyli Standard, Boston PEITE3WH White. Sileä kiiltävä pinta. Tremolo spring cavity cover. Paksuus 2 mm. Plastic 86 x...