Jousipuuhapussi Spring pack 1, kitaramikeille jne ...
Main Page > Parts for musical instruments > Machineheads and other parts Boston / SPG > Guitar pickups
Tuote 102956. Jousipuuhapussi Spring pack 1 esim. mikrofoneille, talloihin ym. Myydään myös yksittäin. Spring packages to pickups, etc. Each package includes 10 springs. Can be bought separately also. Inner dia. 3.2 mm, length 31.8 mm (0.126 x 1.25").
See also
Tuote 104047. Puolipallokanta nikkeli millikierre 2532NiMR. 2.5 x 32 mm, metric, Ni, round. Soitinrakentelussa käytettäviä ruuveja. Mounting...
Tuote 104048. Puolipallokanta musta millikierre 2532BKMR. 2.5 x 32 mm, metric, BK, round. Soitinrakentelussa käytettäviä ruuveja. Mounting...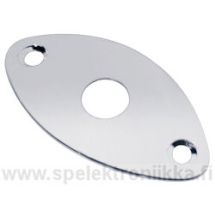 Tuote 102435. Jakkilevy kitaralle. Ovaali, ei syvennystä. Jack plate for guitar. Oval, not recessed. Screw holes 2 x flat or oval head, dia. 3.5 mm (0.138"). Jack hole...
Tuote 105608. Trussiraudan peitelevy " Bell " malli, black / white. Trus srod cover, black/white, plastic. Hosco. Asennus musta puoli ylöspäin. Suojakalvo.
Tuote 104622. Otelautamerkki, simpukkajäljitelmä muovi 7mm OTEMUO7W valkoinen. Fretboard dots, artificial pearl, plastic. W = white.
Tuote 108587. Sähköä johtava maali 30 ml musta. Paksuhko seos, kannattaa sekoittaa aina ennen käyttöä, vedellä saa...
Copper tape for RF shielding, extremely useful for guitars.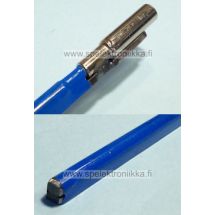 One of our best sellers in truss rods !!!
Tuote 101894. Mikrofoninvaihtokytkin TOGGSW1GB (gold/black). LP tyylinen vaihtokytkin kahdelle mikrofonille, 3 -as. mukana musta nuppi. Näkyville jäävä mekaniikka kulta. TONUP...