TALLA3107CRMVT !!! Kosmeettisia vikoja !!! Pinnassa voi olla vähäisiä naarmuja tai painautumia !!!
Main Page > Parts for musical instruments > Soitinrakennustarvikkeet Boston / SPG > Tailpieces for guitars
Tuote 101103. Toiminta kuten TALLA05CR, mutta TALLA3107CRMVT !!! Kosmeettisia vikoja !!!  Pinnassa voi olla vähäisiä naarmuja tai painautumia !!! Matkavaurioita pinnoitusvikaa tms ... Viat kosmeettisia ei mekaanisia. Osa ilmeisen virheettömiä, mutta kun ne on tehtaalla vedetty blisteriin niin ei alettu aukomaan kaikkia ja tarkistamaan läpi myydään pois alehinnalla. Block Saddles TC -tyylinen talla singlemikille, kulta. Tele TC -tyylinen sähkökitaran talla, setti sisältää tallan + ruuvit. Kuudelle kielelle. Kielten asennus rungon läpi tai runkoon. TC -style bridge, set includes bridge + screws. For 6 strings. Through body string attachment. String spread: 54.0 mm (2.126").
Tuotteesta voi irrota varastointipinnoitteen jäämiä ja väriainetta, pyyhi ja kiillota rievulla ennen asennusta.
Muistathan, että periaate, osta osat ensin, poraa reiät sitten pätee myös talloille. Nämäkään tuotteet eivät ole varaosia tietylle merkille tai mallille. Mitat noin mittoja.
Tuotteessa voi olla tuotannossa tulleita pieniä painaumia pinnassa, huonosta pakkauksesta johtuvia pieniä lyhyitä viiruja tms. joista osasta musta väri on pois tai osasta ei. Samanlaisia ja oikeastaan paljon pahempia jälkiä tulee monesti soittimiin kun sattuu kolhaisemaan pikkuisen johonkin.
See also
Tuote 104672. Sähkökitaran virityskoneisto Boston LP76CRLR 3L/3R, kromi. Boston Musical Products tai OL Guitar Parts Korea riippuen varastotilanteesta. Virityskoneistosetti...
Tuote 109027. Mikrofoninvaihtokytkin ALPHA BLUE 3WAY, 2 x 3 -asentoinen vaihtokytkin, kolmelle mikrofonille, vipu 1 mm x...
Tuote STC20570. TC -tyylinen yksikelainen ylämikrofoni , MICT-6487. Kromattu metallikuori. Mukana ruuvit ja jouset. Single coil TC -style front pickup with cromeplated metal...
Tuote SRN21619. Reunalista, reunanauha kitaraan ABS, Abalone Pearl FABAP1560. 1.5 mm x 3 mm x 1650 mm.
Tuote 109252. TC -tyylinen kontrollipaneeli TELEKPCR kromi. TC -tyylinen kontrollipaneeli. TC -style control plate. Screw holes 4 x flat or oval head, dia. 3.7 mm (0.146"), pot...
Tuote 109208. LP -tyylinen "stop" kielenpidin TALLA114CR kromi 6 -kieltä. Setti sisältää kielenpitimen + 2 kiinnikettä. Edullinen mutta hintaansa...
Tuote 115118. Siirtokuvakalvo mustesuihku etulevykalvo Inkjet Decal Clear A4 5kpl. Kirkas. Muuten sama kuin letter kokoinen, mutta A4. Sama ohje tälle kuin niillekkin. Pienoismalleihin, soitinrakennukseen, itsetehtyjen...
Tuote SRN21617. Reunalista, reunanauha kitaraan ABS, Steeldust Black Pearl FSDBP1560. 1.5 mm x 3 mm x 1650 mm.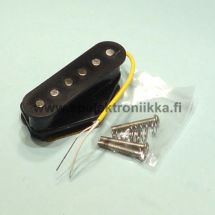 Tuote STC20580. TC tyylinen yksikelainen alamikrofoni SPT054 Black. Ceramic. Screws and springs included. DC resistance n. 6.3 k, inductance n. 6.0 H. Wires White = Hot, GND. Polepiece...