Binding for guitar ABS, Steeldust Black Pearl FSDBP1560
Main Page > Parts for musical instruments > Machineheads and other parts Boston / SPG > Binding materials for instruments
Tuote SRN21617. Reunalista, reunanauha kitaraan ABS, Steeldust Black Pearl FSDBP1560. 1.5 mm x 3 mm x 1650 mm.
See also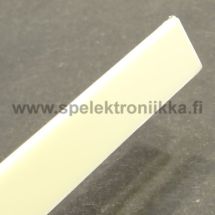 Tuote SRN21610. Bindings for guitars ABS, Cream / Ivory FIV1570. 1.5 mm x 7 mm x 1650 mm.
Tuote SRN21615. Binding for guitar ABS, Bronze Pearl FBZP1560. 1.5 mm x 6 mm x 1650 mm.
Tuote SRN21619. Reunalista, reunanauha kitaraan ABS, Abalone Pearl FABAP1560. 1.5 mm x 3 mm x 1650 mm.
Tuote 109027. Mikrofoninvaihtokytkin ALPHA BLUE 3WAY, 2 x 3 -asentoinen vaihtokytkin, kolmelle mikrofonille, vipu 1 mm x...
Tuote 103075. LP -tyylisen tallan kiinnikesetti KPS49CR, sisältää 2 ruuvia ja vastaketta, vastakkeissa uritus yläosassa. Pienempi halkaisijan mitta sileästä kohdasta, isompi...
Product 115380. Belt buckle / strap with lock SP1101CR chrome. Activities like the Schaller and Boston locks. The newest alternative to these styles, our own model. Flange...
Tuote 104672. Sähkökitaran virityskoneisto Boston LP76CRLR 3L/3R, kromi. Boston Musical Products tai OL Guitar Parts Korea riippuen varastotilanteesta. Virityskoneistosetti...
Tuote 101929. Vaihtokytkimen nuppi. LB-360, musta 3 ja 5 -asentoisten kytkinten nuppi, DM30 ja DM50 -kytkimille. 360 -sarja "tynnyri" TC -tyylisille kitaroille. Millimitoitus.
Osassa tuotteita vähäisiä pintavaurioita viat kosmeettisia...