Timanttiviilasetti timanttiviila 10 erillaista pituus n. 140 mm
Main Page > Parts for musical instruments > Soitinrakennustarvikkeet Boston / SPG > Saddles and nuts > NuBone satulat aihiot
Tuote 115008. Timanttiviilasetti timanttiviila 10 erillaista pituus n. 140 mm. "Puhallettu" vai oliko se ruiskutettu timanttimöhnä viilan pinnassa. Saa hiottua pieniä kerroksia, olisikko hiomapaperina jossain 300 - 500 välillä. Soveltuu oivallisesti pehmeämmille materiaaleille mm. puu, muovi jne ... Ei metalleille, kuluu metallia viilattaessa aivan sikanopeasti.
See also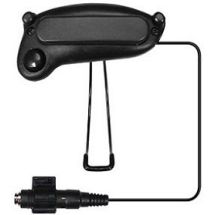 Tuote 100851. Kaikuaukkomikki SHP10 standard teräskielisille akustisille kitaroille. Volumesäätö, mikrofonin korkeus-säätö. Englanninkielinen ohje.
Tuote 103067. Trussrod cover Bell LP "Shorty" style 2 ply, black / white, plastic. Length approx. 50 mm.
Tuote 105452. Tremolo (vibra) kuusikieliselle kitaralle, kromi TRSETCR. Valmis setti, sisältää kaikki tarvittavat osat. Tremolo (vibra) kuusikieliselle kitaralle, setti...
Tuote 109666. Kitaran satula luuaihio, BN-9 Hosco. Koko n. 44x6x3.2mm for ST type. Kaareva.
Tuote SLM20565. Metallinuppi 18 x 19 push to fit kromi flat dome 6mm akselille. Halk. 18 mm, korkeus 19 mm. Sopii kaikille meidän potikoiden  rihlatuille ja halkaistuille 6mm...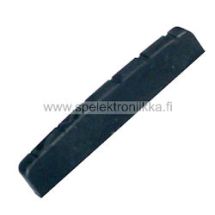 Tuote 102977. Grafiittisatula 6 -kieliselle kitaralle. Graphite pre slotted saddle to 6 -string guitar. Kaareva ja viistottu, curved and obliqued,
43mm x...
Tuote 102346. GLX ABY 10 A/B BOX. Yksi kitara kahteen vahvistimeen tai kaksi vahvistinta yhteen kitaraan tai kaksi kitaraa yhteen vahvistimeen vai miten se nyt olikaan...
Tuote 104222. Stereoplugi 3.5 mm, metallia, murtosuoja. Murtosuojan kanssa hyväksyy jopa 5.6 mm kaapelin.
Tuote 101955. Alpha 24mm 1Mohm audiopotentiometri pleksiin solid saft ei halkaistu akseli. Tuumamitoitus. Laadukas potikka, todella hyvä vaihtoehto...