Regulaattori 7905 negatiivinen 5V 1.5A TO-220 kotelo
Main Page > Electronic components etc ... > Aktiivikomponentit, IC -piirit, transist > Regulaattorit jalalliset ja pintaliitos > Regulaattorit negatiiviset kiinteäjännit
Tuote 113862. Regulaattori 7905 negatiivinen 5V 1.5A TO-220 kotelo.
See also
Tuote 113154. 74LS08 piiri DIP jalallinen quad 2-input AND gate.
Tuote 111013. Maadoitusranneke antistaattinen 4mm banaanijohto nepparilla. Säädettävä maadoitusranneke 4 mm banaaniliitin joka kiinnittyy hauenleukaan.
Irrotettava kierrejohto...
Tuote 113238. 74LS191 piiri DIP jalallinen synchronous up/down binary counter.
Tuote 113257. 74LS283 piiri DIP jalallinen 4-bit binary full adder.
Tuote 113180. 74LS107 piiri DIP jalallinen dual J-K flip-flop with clear.
Tuote 113173. 74LS74 piiri DIP jalallinen dual D positive edge triggered flip-flop with preset and clear.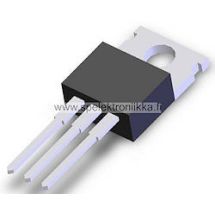 Tuote 109352. Regulaattori 7805 5V 1A TO-220.
L7805 MC7805...
Tuote 112298. NE566. Funktiogeneraattori.
Tuote 113263. 74LS374 piiri DIP jalallinen octal "D" Flip-Flop with 3-state output.